OAU Student Arrested For Attacking Another Student.
A 100l Student of the Obafemi Awolowo University identified as Tope has been nabbed by the Police for physically attacking a fellow student who allegedly advised her to quit smoking.
It was gathered that an argument broke out between the two parties when Nifemi's advised the suspect to quit smoking. Following the argument, the 100l Foreign Language Student reportedly took up a roll on and aimed at Nifemi's forehead.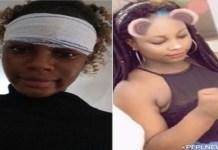 Nifemi was rushed to the hospital while, Tope was handed over to the police.
---
DON'T MISS ANYTHING!!!